The true love life of Jane Austen : how it inspired her career
A chronicle by Marie-Laure Massei
In October 2007, French cinemagoers had the pleasure of discovering Jane, a film directed by Julian Jarrold, which had been released in Great Britain in March 2007 under a thought-provoking title : Becoming Jane. This entertaining movie portrays the early love life of a major British novelist, Jane Austen, who was born in December 1775 in Steventon (Hampshire) and who died in July 1817 in Winchester. Based on Jon Spence's biography, published in 2003 and entitled Becoming Jane Austen, Jane is a speculative biopic of Austen's presumed romance with the young Irish lawyer Thomas Lefroy, which took place around Christmas 1795.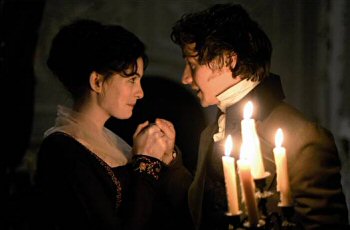 Anne Hathaway was chosen to play the lead: this American actress definitely entered the mature phase of her career with her roles in Brokeback Mountain and in The Devil Wears Prada, starring opposite Meryl Streep in 2006. The hero, Tom Lefroy, is played by the rising Scots actor James McAvoy, who made a brilliant performance in the Last King of Scotland in 2006.
Now, what do we really know about Jane Austen and Tom Lefroy's love story? To what extent is this screen representation of an intimate episode in Austen's life reliable? In the end, is Anne Hathaway a "becoming Jane"?
These are the main questions we will focus on by analyzing extracts of Jane Austen's letters to her sister Cassandra and exploring this mysterious period of her life.
1- First, let's talk about the plot:
Jane Austen is the younger daughter of Reverend George Austen (played by James Cromwell) and his wife (portrayed by Julie Walters), who belong to the impoverished country gentry: like Mrs Bennet in Pride and Prejudice (published in 1813), the business of Mrs Austen's life is to get her daughters married – and well-married if possible – especially Jane, since Cassandra is already engaged to Tom Fowle. Thus, the second sentence in the film is Mrs Austen's exclamation: "That girl needs a husband!!" which obviously means a suitable husband! But at the beginning of the film, the 20-year-old Jane is only interested in literature. Therefore, she refuses the marriage proposal of Mr Wisley, the nephew of the aristocratic and haughty Lady Gresham (played by a Maggie Smith who reminds us of Lady Catherine de Bourgh, in Pride and Prejudice).
Like Elizabeth Bennet in Pride and Prejudice, Jane begins to take marriage seriously only after she encounters Tom Lefroy, a promising lawyer with a reputation. Entirely dependent upon the will of his uncle and benefactor, the wealthy Judge Langlois (played by the late Ian Richardson), Tom Lefroy has just been sent to the country to visit relatives and ponder over his misconduct in town. Jane has a very bad first impression of him (which, by the way, accounts for Pride and Prejudice's original title, First Impressions); she cannot stand the self-centered young man, portrayed as a dissipated, arrogant and impertinent rogue. Even if Tom first sneers at Jane's country ways and ingenuous prose, he then gets to know her and they fall in love. Tom takes Jane to London to try and convince his uncle to let him marry the woman he loves. Judge Langlois considers it, but after receiving a treacherous letter informing him of Jane's poor family, he refuses. If Tom marries Jane, he will be disinherited.
They first part, but then Tom asks Jane to elope with him. As they're on their way to Scotland, she discovers that Tom's parents, along with his numerous siblings, depend on his allowance from his uncle to survive. Jane's strong sense of duty induces her to end her affair with Tom, she returns home to her family and begins to write Pride and Prejudice as First Impressions.
2- Now, what do we really know about Jane & Tom's love story?
We don't know much about this love story, first because Jane's sister, Cassandra, destroyed the greater part – and probably the most confidential passages – of the letters in which this relationship was mentioned; second, because their romance was very brief and probably had nothing to do with what happens in the film.
What we do know is that Tom Lefroy is the chief subject of Jane Austen's earliest surviving letter to Cassandra, dated January 10th 1796:
"You scold me so much in the nice long letter which I have this moment received from you, that I am almost afraid to tell you how my Irish friend and I behaved. Imagine to yourself everything most profligate and shocking in the way of dancing and sitting down together. I can expose myself, however, only once more, because he leaves the country soon after next Friday. He is a very gentlemanlike, good-looking, pleasant young man, I assure you. […] He is a very great admirer of Tom Jones" (Jane Austen's Letters, ed. Deirdre Le Faye 1)
This reference is very meaningful, because Henry Fielding's Tom Jones (1749) was a very provocative and indecent novel, dealing with sexual attraction, fornication and the sins of the flesh, very far from the notion of propriety that was to guide and inspire young women, especially a parson's daughter. This particular reference shows that Jane and Tom had a very bold, free and even subversive conversation.
As to Jane's expectations and feelings for him, here is what she writes to Cassandra on January 14th 1796, as she prepares for her next ball: "I look forward with great impatience to it, as I rather expect to receive an offer from my friend in the course of the evening. I shall refuse him, however, unless he promises to give away his white coat" (Jane Austen's Letters, ed. Deirdre Le Faye 3). The end of the sentence is quite unexpected, but this twist is so like her, being probably part of her "system of defences". She knew that her flirtation with Tom was not harmless, that she would suffer, so in her letter to Cassandra, she jokes about her other admirers and enjoys contradicting herself with another enigmatic sentence: "I mean to confine myself in future to Mr Tom Lefroy, for whom I do not care sixpence" (Jane Austen's Letters, ed. Deirdre Le Faye 4). Here is a very ironical statement, intended as a joke for Cassandra, to put love and pain at a distance, but the very presence of the money reference reveals the core of the problem, how money and love are desperately intertwined. Even if it's a joke, the joke is undermined when you look back at the preceding letter where she praised so much the "gentlemanlike, good-looking, pleasant young man".
As Jane ends her letter on Friday 15th, she cannot help expressing her grief: "At length the day is come on which I am to flirt my last with Tom Lefroy and when you receive this, it will be over – my tears flow as I write, at the melancholy idea." (Jane Austen's Letters, ed. Deirdre Le Faye 4) This letter is really significant because, as Claire Tomalin cleverly points out in her biography: "It's the only surviving letter in which Jane is clearly writing as the heroine of her own youthful story, living for herself the short period of power, excitement and adventure that might come to a young woman when she was thinking of choosing a husband" (Jane Austen: A Life 117).
So Jane definitely flirted with the dazzling Tom Lefroy, who was so unlike the dancing partners she had known all her life, but she certainly did not elope with him: it is true that an engagement between them was out of the question since both were penniless and brought up to sacrifice love if it ran counter to family approval. Besides, Tom's father himself had made an "unwise marriage", ie to an impoverished woman, and they had many mouths to feed. They had five daughters, which meant that the expectations of the whole family depended on Tom, the eldest son. He had to be successful to help his numerous sisters, but his own future depended upon the will of a great-uncle, who was financing his law studies in London.
Thus, when it became obvious to the Lefroys that Tom and Jane were falling in love, Tom was sent smartly away according to Claire Tomalin in her biography, so that "no more mischief might be done" (Jane Austen: A Life 119).
Tom certainly came back to Hampshire once or twice, but the Lefroys made sure that he could not meet Jane. In November 1798, three years after their brief flirtation, Jane informs Cassandra that Mrs Lefroy called on them, but said nothing of her nephew, "and I was too proud to make any enquiries; but on my father's afterwards asking where he was, I learnt that he was gone back to London in his way to Ireland, where he is called to the bar and means to practise" (Jane Austen's Letters, ed. Deirdre Le Faye 19). So Jane never saw him after his Christmas visit of 1795.
Even if Jane Austen jokes about him in her letters, it must have been a very painful experience, first because she seemed really attached to him and second, because marriage was, at the time, the crowning point of a woman's life, and sometimes, a way out of poverty. As expected, Tom finally married an heiress, had seven children and became Lord Chief Justice of Ireland in 1852; he also sat for eleven years in Parliament as a Tory. As an old man, he did confess to a nephew that he loved Jane in 1796, "although he qualifies the confession by saying it was boyish love" (Jane Austen: A Life 118).
This cruel episode must have taught Jane Austen a hard lesson: she could never marry the man of her choice without money, but she would never marry without affection, a motto which runs counter to Mrs Austen's desperate statement in the film, as Jane has just turned down an interesting marriage proposal: "Affection is highly desirable, but – she warns her daughter – money is absolutely indispensable!", indispensable to Jane, but also to the future of her mother after Mr Austen's death (in 1805).
After Tom's departure, Jane Austen turned to writing, more determined than before to become a professional writer, making money out of her novels. In the same letter in which Jane expected a proposal from Tom on January 15th 1796, she made a very significant comment as Cassandra praised her on her writing: "I am very much flattered by your commendation of my last letter, for I write only for fame and without any view to pecuniary emolument" (Jane Austen's Letters, ed. Deirdre Le Faye 3). After her aborted marriage plans, she would change her mind and try to make all the money she could out of her novels: "I am very greedy & want to make the most of it", she confessed to Cassandra in 1814 after the first edition of Mansfield Park had been sold (Jane Austen's Letters, ed. Deirdre Le Faye 281).
3- How can we assess this screen adaptation?
The choice of Anne Hathaway was much criticized by the Janeites, these enthusiastic admirers of Jane Austen's writings. As a Guardian columnist remarked when the film was released in Britain: "The idea that this extravagantly beautiful American should be entrusted with the task of playing the home-counties spinster who wrote all their favourite novels must seem like the worst kind of Hollywood blasphemy." Indeed, Hathaway, herself an Austen fanatic, admits that she was nervous about taking the role for precisely that reason.
Some critics still consider that the young actress was a bit too inexperienced to convey Austen's complex personality. Besides, as she definitely looks beautiful, she is not very likely to embrace spinsterhood at the end. As we can expect, the choice of Hathaway was purely commercial: Hollywood producers just wanted to make sure that the actress would appeal to the widest audience possible, even bring in a young teen audience.
But by the way, what do we know about Jane Austen's physical appearance?
The main problem is that she is – along with her handicapped brother George – the only member of her family not to have any formal portrait! The only thing we have is a rather unflattering sketch, drawn by her sister Cassandra. So unflattering that the Managing Director of Wordsworth editions (publisher of classic novels) also defended its decision to show an "improved" or "prettified" Austen on its covers, offering the following explanation: "The poor soul didn't have anything going for her in the way of looks"!!!
However, here is what James-Edward Austen-Leigh wrote in 1871 about his aunt's physical appearance: "In person she was very attractive; her figure was rather tall and slender; her step light and firm and her whole appearance expressive of health and animation. She had full round cheeks, bright hazel eyes, and brown hair forming natural curls close round her face" (A Memoir of Jane Austen 87).
4- So, is Hathaway a becoming Jane in the end?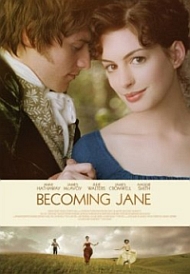 The original title of the film, Becoming Jane, is much more interesting than its bland French equivalent, Jane. It is indeed based on the title of Jon Spence's biography, Becoming Jane Austen, in which the gerund "becoming" clearly hints at a process of transformation, ie the maturing of Austen both as a woman and novelist after her brief romance with Tom Lefroy. But there is more to it than meets the eye, because this title is also intended as a pun, mainly addressed to the Janeites, in which the gerund may also be read as an adjective: to Julian Jarrold, the actress he chose is a "very becoming Jane" indeed, in the sense that she is a very proper and decent embodiment of Austen.
By the way, to reassure the Janeites and prove that she had the highest esteem for their icon, Hathaway trained very hard: she learnt how to speak in a British accent, she changed her manners and read a few biographies to get a thorough knowledge of the novelist. (Anyway, with such a name, apparently intended as a deliberate homage to William Shakespeare's wife by her theatre-loving parents, Anne Hathaway could not but play the role of a great figure of British literature!)
So on the whole, yes, Anne Hathaway may be a bit too pretty and doe-eyed, indeed, especially on the commercial poster, but she is no "calamity Jane" at all! She is a committed Jane Austen, her interpretation of Austen's wit, liveliness, energy and independence of mind is quite convincing and in keeping with an Elizabeth Bennet, Austen's emblematic heroine, who is not afraid of jumping over stiles with impatient activity to go and nurse her ill sister. We mustn't forget that the idea of Jane Austen as an old spinster chained to conventions, as "dear Aunt Jane", is a Victorian construction, worlds apart from the lively, noisy, wild Jane who plays cricket in the film and who enjoyed being "most profligate and shocking" in real life. And indeed, here is what Jane Austen wrote to her niece Fanny Knight in 1817, only a few months before she died: "Pictures of perfection, as you know, make me sick & wicked", quite a revealing statement! (Jane Austen's Letters, ed. Deirdre Le Faye 335).
5 – Now, is it a convincing movie?
McAvoy is definitely a good actor, but perhaps not dashing or romantic enough to be completely convincing. He nonetheless has a nice rapport with Hathaway, they form a nice couple, but it's very difficult to believe in the end of the story, it just does not pan out as we would expect given such a beginning.
However, as a very entertaining fiction film, it is well intended. Jane Austen fans should really enjoy the numerous references to Persuasion, Sense and Sensibility and Pride and Prejudice, since we notice an interesting system of echoes between the film and the novels: we even have the impression of watching another adaptation of an Austen novel, with all the familiar themes (propriety vs passion) and familiar characters (snobbish aristocrat or matchmaking mother).
The most delightful aspects of the film lie in the wistful atmosphere, the aesthetic pictures and the beautiful Irish scenery, since the film was largely shot in Ireland – incidentally Tom Lefroy's country.
In the end, what matters is not so much Jane Austen's looks or physical appearance: and indeed, do we really want to know what she looked like? This will hopefully remain a mystery. What matters is not her aborted love story either, because we readers are relieved that she won at literature instead of at love. As she declared in one of her letters: "Composition seems to me impossible, with a head full of joints of mutton & doses of rhubarb" (Jane Austen's Letters, ed. Deirdre Le Faye 321). And had she married, her head would certainly have been full of household duties.
It would probably be simplistic and manichean to claim along with the film-makers that young and passionate Jane became a mature and witty novelist mainly thanks to her romance with Tom Lefroy: as Tom advises her in the film, "If you wish to practice the art of fiction, experience is vital, your horizons must be widened". Well, this episode was probably a source of inspiration for her novels, especially as to the central role of money in her plots – we mustn't forget that the money issue accounts for Austen's blighted marriage prospects. Her vision of life certainly became informed by this unhappy love, as she became aware of sexual vulnerability, but what she definitely did not owe Lefroy was her deep sense of irony and her sharp insight into human nature.
Rather, what definitely matters in this film, is that it helps us understand how disappointed love led to a kind of compensation in fiction through the creation of successful heroines, how pain and sorrow paradoxically gave birth to the "light & bright & sparkling" Pride and Prejudice (Jane Austen's Letters, ed. Deirdre Le Faye 203), one of the most enticing and thrilling novels in British literature. If we come to think of it, the real hero of the film may not be Tom Lefroy at all, but Jane Austen's manuscript. And it's very fitting and even becoming, that the last scene of the film should be a reading of the very beginning of Pride and Prejudice by the novelist herself. Like a mise en abyme, the filmic representation of Jane Austen's love life thus naturally and harmoniously flows into another form of art, with another fiction, but this time, with a happy end. At that stage, we cannot but remember Joe Wright's 2005 screen adaptation of this novel, starring Keira Knightley, standing out against a perfect English landscape, a novel in her hand…
BIBLIOGRAPHY
Austen, Jane. Sense and Sensibility. 1811. New York, London: Norton, 2002, 416 pp.
_________ Pride and Prejudice. 1813. New York, London: Norton, 1993, 388 pp.
_________ Persuasion. 1818. New York, London: Norton, 1995, 316 pp.
Austen-Leigh, James-Edward. A Memoir of Jane Austen. 1871. Ed. R.W. Chapman. Irvine Calif.:1992, 235 pp.
Le Faye, Deirdre, ed. Jane Austen's Letters. Oxford, New York: OUP, 1997, 643 pp.
Tomalin, Claire. Jane Austen: A Life. London, New York: Viking, 1997, 358 pp.
You may as well listen to this program about Jane Austen in French: La véritable histoire d'amour de Jane Austen
Cela peut vous intéresser