Elizabeth the First
Film by Shekhar Kapur
Elizabeth, The Golden Age, which was released in France in December 2007, is the follow-up to Kapur's Oscar-nominated movie about England's most powerful queen, which came out in 1998. Shekhar Kapur's first Elizabeth was definitely a critical and commercial success that deconstructed all the conventions of costume drama with its original vision, its framing of warm-blooded people in cold, stony settings and filming from vertiginous angles.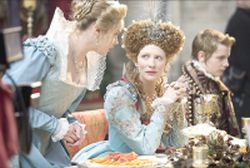 The Golden Age, which was released in France in December 2007, is the follow-up to Kapur's Oscar-nominated movie about England's most powerful queen, which came out in 1998. Shekhar Kapur's first Elizabeth was definitely a critical and commercial success that deconstructed all the conventions of costume drama with its original vision, its framing of warm-blooded people in cold, stony settings and filming from vertiginous angles.
Now, sequels are notoriously difficult and tricky. So why do it? As Kapur explains: "There was no absolute intention, but there was a desire. You've let loose a little Pandora's box as a storyteller, and you have to take it further."
Choosing an Indian film director, born in pre-partition northern India, to take on the typically English figure of Elizabeth I was quite bold and unexpected, and Kapur admits he was an unlikely interpreter of Tudor history: "I hated history and knew nothing about Elizabeth, except that she was a Renaissance and a virgin queen, so I was surprised to be approached. The producers thought of me because they were afraid of making a regular costume drama. But I couldn't have made a film about Gandhi", he explains. "It's too much part of my psyche. Maybe it would have been the same for some British directors making a film about Elizabeth." Kapur the outsider thus collaborated with British scriptwriters who kept him "tethered to reality", but his fresh perspective on the much filmed and venerated icon felt new.
It was playing the role of Queen Elizabeth I in the 1998 film that saw actress Cate Blanchett burst onto the international scene. Even if the Australian star was reportedly reluctant to reprise her role in the big-budget sequel, Kapur persuaded her that she could delve deeper into the character of Elizabeth I. And, as Blanchett asserts: "It's indisputable that she's incredibly complex, endlessly fascinating. If you look at the long legacy of actresses who've played her and will continue to play her, it's a little bit like the female Hamlet."
A few historical landmarks:
The last Tudor monarch's family history is both eventful and cruel: in 1536, her father King Henry VIII had her mother Anne Boleyn beheaded on charges of adultery, incest and treason, whereas Queen Anne was probably innocent of those crimes. At the time, Elizabeth was only 3. Her early years were full of uncertainties and danger, and her chances of succeeding to the throne seemed very slight, especially after the birth of her half-brother Edward in 1537. She was then third in line behind her Roman Catholic half-sister, Princess Mary. Besides, in a country beset by religious strife, Roman Catholics in England always considered her illegitimate and she narrowly escaped execution in the wake of a failed rebellion against Queen Mary in 1554. On the death of Queen Mary in 1558, nicknamed "Bloody Mary" after she had burnt 300 Protestants at the stake, Elizabeth ascended the throne. The young Queen's first step, therefore, was to try and reconcile her nation through a religious compromise between Roman Catholicism and Protestantism: in 1559 she passed the Act of Supremacy and established the Church of England.
A golden age or a gilded cage?
After her portrayal in 1998 of the young Elizabeth struggling with self-denial and a court of male plotters, Blanchett now plays the middle-aged Queen at the peak of her powers, in full command of her wit and political skill, still a formidable presence on the screen.
This time out, in 1585, Elizabeth is 52, yet oddly looking 20 years younger, but that must be a historical allusion to the efficient "mask of youth" used by official painters as a propaganda tool to display the image of a never-ageing monarch? Queen Elizabeth I is now faced with losing her country, her crown and perhaps her head to her cousin Mary Stuart, Queen of Scots (played by Samantha Morton), who foments plots from her prison with the help of Roman Catholics. And England is also threatened with holy war by the Spanish king Philip II (played by a caricatural Jordi Molla), whose Great Armada is the largest fleet in Europe. As Philip II is persuaded that he has claims on the English throne through his marriage to Mary Tudor, his vision of the whole situation is quite Manichean: "England is enslaved to the devil, we must set her free".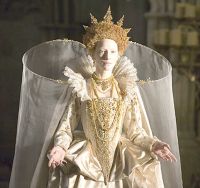 But despite all these thrilling plots, we have the feeling that the Queen is more concerned about her personal problems than about this seminal moment in English history. The idea driving the first film was virginity. Kapur explains that they "chose to see virginity as a political statement rather than a historical fact". In The Golden Age, the issue of the Queen's virginity is still present and remains unquestioned, but another theme is dwelled upon: the difficulty of being a living icon, loved, yet unfulfilled, as Elizabeth's last line in the film shows: "Unmarried, I have no master, childless, I am a mother to my people, God give me the strength to bear this mighty freedom".
Though the cast-list is very impressive (with Clive Owen as Sir Walter Raleigh and again Geoffrey Rush as the wily spymaster Sir Francis Walsingham), the storyline is a bit disappointing: the romantic subplot involving the dashing Raleigh and Bess Throckmorton (portrayed by Abbie Cornish), has been overemphasized. As the Virgin Queen is charmed by the forthright adventurer, whose robust masculinity is so thrillingly at variance with the dull potential suitors at court, she instructs her closest lady-in-waiting, Bess, to befriend him, a proxy seduction, in fact. It's a shame screenwriters William Nicholson and Michael Hirst have chosen to focus on the Virgin Queen's lustful longings for Raleigh. She spends too much time fretting over what it might mean to England should she enjoy a kiss from him. Besides, this is not historically correct.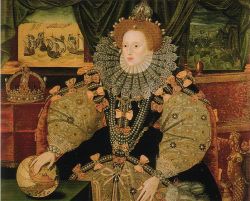 History burnt at the stake?
Even though much of the film is based on fact, like the Queen's speech to her troops on the eve of the Spanish Armada, or her agony over the fate of her cousin Mary, Queen of Scots – since Elizabeth could not resolve herself to behead a Queen until Mary's treachery was proved – history doesn't bear out a romance with Sir Walter Raleigh. Elizabeth's favorite at court – and probably the love of her life – was Robert Dudley, played by Joseph Fiennes in Kapur's first film. Nor do historians believe Raleigh defeated the Spanish Armada almost single-handedly, as he does here! In 1588, aided by bad weather and, above all, a stroke of luck, the English navy scored a great victory over the Spanish fleet of around 130 ships and 20 000 troops.
Some critics went as far as to say that in this movie, history is burnt at the stake. But given its two-hour running time, history obviously needed to be compressed in an effort to highlight the critical details of a well-known story, while also putting on a good spectacle. Hence the apparent collusion between the execution of Mary Queen of Scots and the seaborne Spanish attack, whereas there was no absolute relation of cause and effect between them.
A few mistakes can be spotted, though, and this probably accounts for the lukewarm reception of the movie in the UK: the film spans 4 years, between 1585 and 1588. Now, the story between Bess Throckmorton and Raleigh is posterior, since it is in late 1591 that the Queen's lady-in-waiting discovered she was pregnant and secretly married Raleigh. It's only in May 1592 that their marriage was discovered. As the Queen had not granted permission for such a match, Raleigh was promptly arrested and was to fall into five long years of disgrace.
Besides, the final statement, about England entering "a time of peace and prosperity" must be questioned: during the 1590s, the nation also suffered from high prices and severe economic depression, especially in the countryside. The war against Spain was not that successful after the Armada had been beaten, and above all, it was very costly.
Last, but not least, the most damaging scene definitely comes with the naval fight between the Spanish and English fleets, since the Computer Generated Imagery-ed Armada looks as if it had sailed from a fantasy world. A historical film should definitely have gone for a more realistic look. But Cate Blanchett does not think that the lack of historical realism matters. "It's a very accessible film. And Shekhar plays loose and fast with history. It's very dreamlike," she tactfully retorts.
All these failings may explain why British critics argue that Kapur's new movie, pitched at the level of a romantic novel, falls short in comparison with the excellent recent TV version of the same period with a stripped-down Helen Mirren as Elizabeth I and Jeremy Irons as Dudley.
An esthetic pleasures:
Nevertheless, even if the film may lack any lasting sense of depth or substance, Elizabeth: The Golden Age is definitely a beautiful-looking film, since the emphasis was laid on a splendid costume design and set design. Blanchett proves once more that she is a gifted and inspired actress, who really inhabits the role, perfectly embodying the powerful and yet vulnerable Queen, triumphant, yet tragic, full of majesty as she glides across cold stone halls, a diaphanous veil hanging above her shoulders. The actress has succeeded in conveying the feeling of loneliness and remoteness characteristic of many portraits of Elizabeth I, where she looks so hieratic and enigmatic. Many film-goers have enjoyed these highly aesthetic shots of the Queen, that echo, for instance, the famous Ditchley portrait.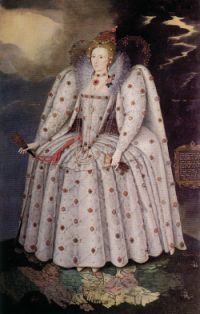 Hillary as Elizabeth's heiress?
That the story of a queen dead for 400 years still captivates Hollywood's imagination might not be that surprising in the end: there, in the former Colonies, for instance in Virginia precisely named after the Virgin Queen, Americans are just coming to grips with the possibility of the first woman president. "Elizabeth really is the first woman to rule a country without a king in the modern world", Susan Ronald explains in The Pirate Queen. Highly educated and clever, tough, indomitable, she ruled over the expansion of England. Given the numerous parallels drawn by American political observers between Queen Elizabeth I and Hillary Clinton, the female candidate should have studied closely the monarch's inspiring speeches to her people, like the one she made on the eve of the Spanish Armada: "I know I have the body of a weak, feeble woman, but I have the heart and stomach of a King, and of a King of England too!"
A king, certainly, but of the female gender…
Listen this broadcast in French : Elizabeth 1ère, l'Age d'Or
Cela peut vous intéresser