Breakfast with Barry Kleinbort
Canal Académie à Broadway - Hiver 2008
Winter 2008. I was in New York for Canal Academie. And I wanted to do something about Mr. Barry Kleinbort, a fantastic - and multi-awarded - songwriter/director. To say the truth, I've been hearing two days before a kind of tribute to Kleinbort's work in the NY area. I was enthusiastic, amazed, bedazzled, discovering « live » what I just knew before with cd's and scores. From this moment, my point was to come back to France with some « Kleinbort material » for Canal Academie : he is an artist I like, and I wanted to introduce him to the Canal Academie both french and american listeners.
_ So, I called him the day after. "Mr Kleinbort, would you allow me to do an interview with you ? For Canal Academie. Yes. A French Web Radio. In English. Yes." Mr. Kleinbort is a kind man. He just said : "ok, that's sound fun !". So we did. And we met. At the Blue Fin, a very trendy and fashionable Time Square place, on broadway/47th street. For breakfast. We agreed for a non-formal interview, a friendly chat about Musicals, Broadway, and Barry's works and creations. And that's what you can hear after your next clic.
Barry Kleinbort has worked as a composer, lyricist/librettist and director over the last twenty-five years, earning the prestigious Edward Kleban Foundation Award for Lyric Writing, 2002 and 2003 Gilman & Gonzalez-Falla Musical Theatre Foundation Commendations, two BackStage Bistro Awards, ten Manhattan Association of Cabarets (MAC) Awards and two cable Telly Awards for his efforts. He has directed and/or written special material for such cabaret/theatre luminaries as Kaye Ballard, Marcia Lewis, Mary Cleere Haran, Regis Philbin, Rita Gardner, Brent Barrett, John Barrowman, Jeff Harnar, Heather MacRae, and many others. He wrote the incidental music and songs for the Off-Broadway production of Second Avenue by Alan Knee, the book, music and lyrics for Angelina, based on That Summer -That Fall by Frank D. Gilroy, and co-wrote the musical Perfect Harmony, which ran for over six months in South Florida.  A highly acclaimed revue of his theatre songs, Big City Rhythm, which played at the Triad Theatre in New York City (available on Harbinger Records).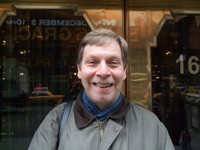 Barry Kleinbort is one of the finest Broadway composer/lyricists of these times. He's got this very special new-yorker charm, culture, and this hight spirited Broadway feeling. His smart lyrics got wit , fun, and can be specially moving too ; his tunes are very personal, cultured and civilized – and definitively classy. If you didn't ever heard about Kleinbort's songs, it's time to try it with our radio broadcast. You'll be a fan at once. Just when – for example – you'll notice Kleinbort's "so Marc Blitztein" yeastly and elegant style, or the specially perfect Kleinbort manner to marry lyrics + music. Let me tell you : you'll be amazed and happy to know this artist. With a big A. You will discover some song from his Off-Broadway hit Big City Rhythm, and some excerpts from the musical Was (book and lyrics by B. Kleinbort/music by Joseph Thalken) and from brand new one : Angelina (music, book and lyrics). And, last but not least, Barry Kleinbort tells us about his art of composing music and lyrics, his carreer, his likes and dislikes, his points of view about Broadway and musicals - and what it takes to be… how to say… a "Broadway Baby", of course !
Christophe Mirambeau
If you want more Kleinbort's, just got to www.harbingerrecords.com
Cela peut vous intéresser