Andrew Wyeth, american painter and member of the Académie des beaux-arts
Eddie McDonnell, director of the Mona Bismarck American center for art & culture, gives us an introduction to the incredible work of the famous artist
Andrew Wyeth, elected in 1976 at the Académie des beaux-arts, is a major painter of the twentieth century in the United-States of America. With paintings such as The world of Christina, he showed a real sense of capturing life and its particular moments. As the son of NC Wyeth, he succeeded in making a difference within the arts lanscape. Eddie McDonnell, from the Mona Bismarck American Center is explaining why Andrew Wyeth is an important celebrity.
The name Wyeth has figured prominently in the history of American art during the past century. For three generations, the Wyeths have captured the imagination and admiration of a wide audience and are today celebrated as one of America's foremost artistic families. There were paintings and drawings by N. C. Wyeth, his son Andrew Wyeth, and his grandson Jamie Wyeth. All are linked by a commitment to realism, technical brilliance, and a sense of narrative.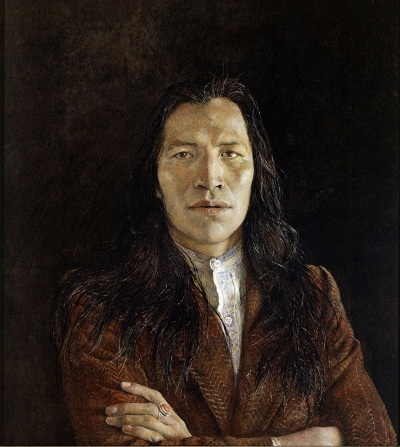 Widely regarded as America's finest realist painter, Andrew Wyeth (1917-2009) is amongst the most popular American artists of the last century. He was elected at the Académie des beaux-arts in 1976. Influenced by the works of artists such as Winslow Homer, Albrecht Dürer, and Thomas Eakins, among others, Andrew painted people and places he knew intimately, both in his hometown of Chadds Ford and at his summer home in Cushing, Maine.
Andrew Wyeth was born in 1917 and died in 2009. He started drawing at a young age. He was a draftsman before he could read. By the time he was a teenager, his father brought him into his studio for the only art lessons he ever had. N.C. inspired his son's love of rural landscapes, sense of romance and artistic traditions. Although creating illustrations was not a passion he wished to pursue, Andrew Wyeth produced illustrations under his father's name while in his teens.
In 1937, at age twenty, Andrew Wyeth had his first one-man exhibition of watercolors at the Macbeth Gallery in New York City. The entire inventory of paintings sold out, and his life path seemed certain. His style was different from his father's: more spare, "drier," and more limited in color range. He stated his belief that "…the great danger of the Pyle school is picture-making." He did some book illustrations in his early career, but not to the extent that N.C. Wyeth did.
Andrew Wyeth was a visual artist, primarily classified as a realist painter, like Winslow Homer or Eakins. In a "Life Magazine" article in 1965, Wyeth said that although he was thought of as a realist, he thought of himself as an abstractionist: "My people, my objects breathe in a different way: there's another core — an excitement that's definitely abstract. My God, when you really begin to peer into something, a simple object, and realize the profound meaning of that thing — if you have an emotion about it, there's no end."
Dividing his time between Pennsylvania and Maine, Andrew Wyeth maintained a realist painting style for over fifty years. He gravitated to several identifiable landscape subjects and models. His solitary walks were the primary means of inspiration for his landscapes. He developed an extraordinary intimacy with the land and sea and strove for a spiritual understanding based on history and unspoken emotion. He typically created dozens of studies on a subject in pencil or loosely brushed watercolor before executing a finished painting, either in watercolor, drybrush (a watercolor style in which the water is squeezed from the brush), or egg tempera.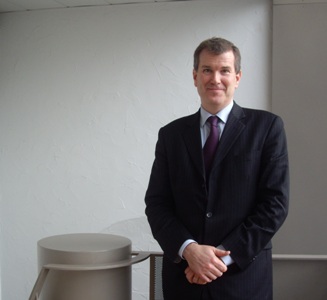 More :
- Now, if you listen to this program before the twelve of february 2012, then you'll have to run to the Mona Bismarck American center in Paris to see the incredible exhibition which gathers the most famous paintings of the 3 artists gerenations and of course those of Andrew Wyeth.
Many of these works have never been on view in
Paris and span almost one hundred years of creative
output. They reveal the breadth of the Wyeth
family's prodigious talent, showing their common
themes and their distinctive achievements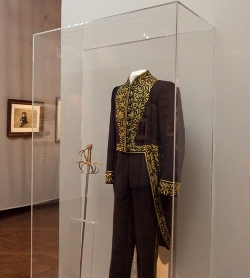 The works, the majority of which have never been shown in Paris, have been drawn from the Bank of America Merrill Lynch Collection, with more than forty additional works selected from the private collections of the Wyeth family and other lenders. These works reveal the breadth of the Wyeth family's prodigious talent and illuminate both common themes and their creators' distinctive achievements over the past century.
N. C. Wyeth (1882-1945), the patriarch of the family, was one of America's finest and most widely-loved illustrators, whose outstanding images for classic tales such as Treasure Island, Rip Van Winkle and Robinson Crusoe shaped the imaginative life of a generation of children the world over.
34, avenue de New-York 75116 Paris, France
+33 (0) 1 47 23 38 88
- Site web du Mona Bismarck American center for art & culture
Cela peut vous intéresser